Soulcage was a really great band with which I spent 8 fun-filled months; months peppered with frustrations, personnel issues, booking fiascos, venue closings and great times with friends new and old. This is my tribute or perhaps more accurately, lament to the untimely demise of one of my favorite bands.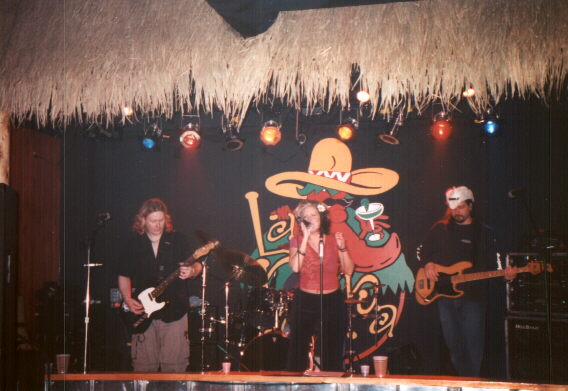 Soulcage was Todd Edmonds on guitar, Christa Carter on vox and Frank Bohle on drums. Before Frank joined, we had my friend Tim Kehring filling in. Tim essentially joined the same time I did so we both had the same learning curve to go through. Those early practices with Tim were when the majority of the bizarre medleys came about. What started as 2 or 3 songs ended up becoming a 10 song medley decathalon. No genre was off limits: 80's pop, metal, classic rock, disco, rap, you name it we desecrated it.

Despite the fact that we all came from relatively well-known bands, the reality is that no one gave a rat's patootie and we were still a "new" band.  Ergo, we often played to less-than-packed houses (see above photo). This lead to us hearing things from the staff like:

"So exactly how many people do you USUALLY draw?".

And our favorite:

"We've never seen it this dead in here before".

We heard that one enough that we were actually considering changing our website's URL to www.weveneverseenitthisdeadinherebefore.com.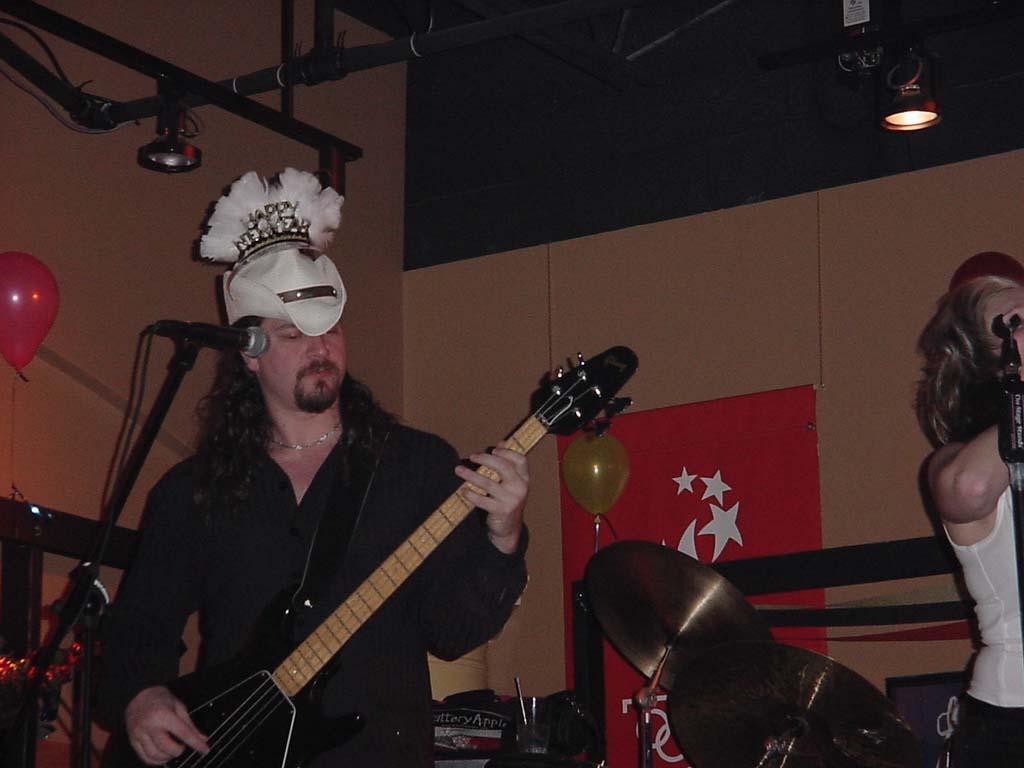 Despite some less than stellar turnouts, we trudged on and managed to recruit a F/T drummer - the aforementioned Frank Bohle. With the lineup now intact, we got to work on those monster medleys and some originals as well. We soon discovered that we had much more fun playing songs we didn't know than those we had rehearsed. Bizarre song segues found their way into many a set. One time the intro from the song "Black Sabbath" segued us into No Doubt's "Spider Webs". Rush, Kiss or anything metal was good to use as it would typically prompt Christa to yell "WHAT IS THIS?".

                                                       * * *

We had the worst luck with PA's of any band I've ever been in. Christodd had purchased several heads and none of them worked very well. We enjoyed watching Todd's brain vein pulsate with frustration as he tried to diagnose and fix the nightly PA debacles.

                                                       * * *

After several months of all this fun, Christodd set their sites on a Nashville as the place they needed to be to pursue their vision. They made it clear that they wanted to keep the band intact and that they wanted us to relocate with them. As tempting as the offer was, fate had something else in mind for me and offered me 2 new bands - Rebel Amish Radio and Kirk's Money Brothas. After the last date was booked we all sadly counted down the days to what we knew would be the last ever SC gig. A few days before our "final" show, we had a going away party at The Horse in Fells Point. The bar was our 2nd home and seemed an apt place to say farewell to those who had supported us. Family, friends and many of our fellow musician buds joined us for what had to be the loudest unplugged performance of all time. Then on July 13th, Soulcage bid a somewhat ceremonious adieu at a little bar in Brooklyn Park called Maynard's. Many friends and fans were in attendance as we played our favorites for the last time. The highlight of our shows seemed to be "The Heavy Medley": Rage, Tool, AIC and Filter....all belted out by the little gal with the daisy in her hair. I think we all gave it a little more chutzpah this last time.

                                                       * * *

So I guess the epilogue to this tale is that even though Soulcage wasn't around long enough to make a huge impact on the scene here, the band had a big impact on me. During the last few months when we knew the end was coming, it seemed the pressure was off and we just had fun every night. There were times when we veered off into uncharted waters playing songs we've never played before and other times when the nightly staples just came together and there was magic. It's good to know that after all these years and countless bands, you can still feel that same way you did back in highschool when you jammed in the basement with your friends.